(Version française plus bas)
My automatic abstract art begins by colour mixing. I work with Daniel Smith's fine watercolour primaries, mixing to achieve complex colours, unusual, warm and fully pigmented.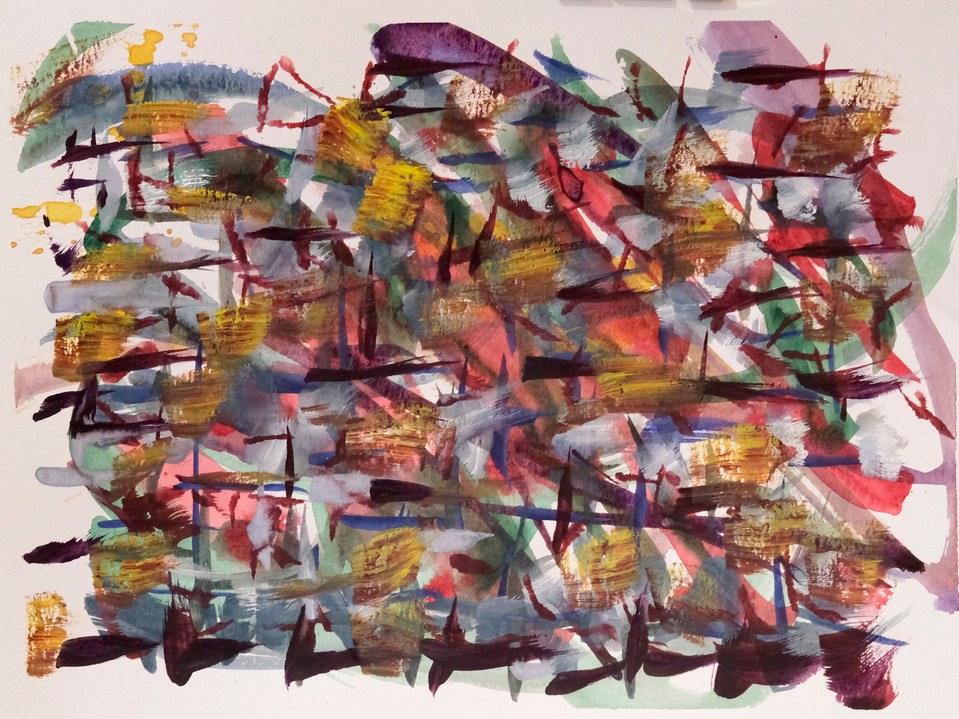 This piece is all about superposition. Forms and markings were added spontaneously, until the breaking point, creating dimensions.
I create abstract automatically, hence the pieces have no particular meaning other than to show the invisible energy that emanates from my subconscious mind. The irrational me.
I enter this creative space where I let go of all boundaries, I mix until I feel a colour is ready to be placed on paper. Then I lay it spontaneously, never in the same manner, using different tools, letting go of any preconceived intentions. I add layer after layer, mix and remix colours, push the piece aside to dry, and begin again.
At one point, I will either know intrinsically that the piece is achieved, or I will ask myself: "Am I ready to lose this piece by going further?" My answer is always yes. So I ruin a lot, and sometimes, magic happens.
This piece for me is magic.
*I have added this piece to my 100 Art piece challenge, it is No. 40. https://christine-girard.format.com/defi-100-challenge
—————————————-
Mon art abstrait est automatique. Tout débute par le mélange des couleurs. J'utilise les primaires de Daniel Smith "Fine watercolour" que je mélange pour obtenir des couleurs complexes et très pigmentées.
Cette pièce est tout en superposition. Les formes et les traits furent ajoutés spontanément, jusqu'au point de non-retour, créant des dimensions.
Je crée automatiquement des abstractions, donc mes pièces n'ont pas nécessairement de signification autre que de montrer l'invisible énergie qui émane de mon subconscient. Mon côté irrationnel.
J'entre dans cet espace créatif où je laisse aller toutes contraintes. Je mélange jusqu'à ce que la couleur soit prête à être placée sur le papier. Je l'étends spontanément, jamais de la même façon, utilisant différents outils, abandonnant toutes intentions préconçues. Couche après couche mélange après mélange. Je délaisse parfois la pièce et j'y reviens pour reprendre le processus.
À un certain moment, je saurai intrinsèquement que la pièce est terminée, sinon, je poserai cette question : "Suis-je prête à tout ruiner pour pousser le processus plus loin?" Ma réponse est toujours oui. Donc je ruine beaucoup de pièces et parfois la magie opère.
Cette pièce pour moi est magie.
*La pièce est maintenant la no. 40 du défi sans oeuvres d'art en cours. https://christine-girard.format.com/defi-100-challenge